Belkyra™ & Kybella™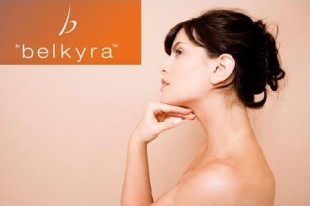 How to get rid of a double chin?
Belkyra™ (deoxycholic acid) – known as Kybella™ in the USA, is the  is the first and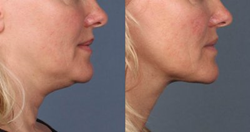 only non-surgical treatment in Canada for improvement of the appearance fullness under the chin.
Dr. Weksberg is proud to be one of the first physicians in Canada to offer Belkyra.
What is Belkyra?
Known as Kybella in the United States, this injectable has been used for many years to treat submental fullness – also known as double chin fat. Belkyra is a made of a synthetic form of deoxycholic acid which is a naturally occurring substance in our bodies. Deoxycholic acid when injected will destroy the cell membranes of fat cells under the skin and help with the absorption of dietary fat. Unlike Lipodissolve, Belkyra is NOT animal derived. Once destroyed, those cells can no longer store or accumulate fat making re-treatment after aesthetic results are achieved unlikely.
Who is a good candidate for Belkyra?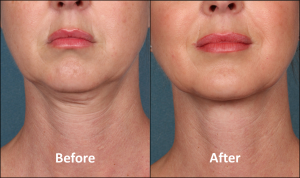 Fullness under the chin is not uncommon, and can make you look heavier and older than you actually are! Belkyra (Canada) or Kybella (United States) injections are indicated for improvement in the appearance of moderate fullness. Keep in mind however, that Belkyra is used to treat excess fat – not loose skin, unfortunately this treatment will not help the dreaded "turkey neck".
What can I expect during my Belkyra treatment &  how many Belkyra treatments will I need?
Belkyra is administered through a series of tiny injections into the fat under your chin. Each treatment session will last approximately 15-20 minutes during which time you will feel little to no discomfort at all. Immediately following your treatment, some patients report f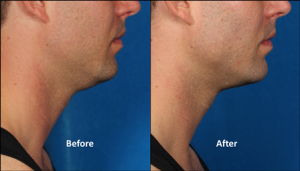 eeling slight burning or stinging sensations in the injection site which can be alleviated using ice packs provided by Dr. Weksberg. Other sensations that one may experience include numbness, tingling, itchiness, a sensation of warmth, or a sensation of skin tightness. Redness and swelling will be observed following the treatment, with swelling usually lasting 1-2 weeks.
Most patients will need approximately 3 to 5 Belkyra treatments, and they are typically spaced one month apart, treatment results will be visible 2 to 3 weeks after each treatment as the swelling subsides.