Belotero® Hydro
BELOTERO HYDRO can be your secret to deeply moisturized, hydrated and youthful looking skin. Unfortunately as we age, our skin changes. You may be taking great care of yourself – working out, watching your diet and getting the right amount of relaxation when you can… and you feel great! But the reflection in the mirror just doesn't look as good as you feel.
BELOTERO HYDRO is a skin maintenance treatment that is specifically designed for deep rehydration, restoring radiance and elasticity of the skin.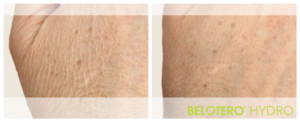 A lifetime of sun exposure, personal habits, and aging can contribute to some classic signs of ageing, that may be starting to become noticeable on your face, neck, chest and hands. Things like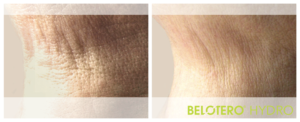 fine lines or dehydrated skin. Belotero Hydro is product is ideal for treating all these skin issues!
Adequate hydration is one of the essential factors of the health and beauty of your skin. There is a clearly established relationship between dehydration and aging of the skin – though it's the largest organ of your body, it is also the last to receive the nutrition from a glass of water!
BELOTERO HYDRO is a non-animal-origin injectable treatment, containing a nutrient rich cocktail of vitamins, anti-oxidants, hyaluronic acid, and amino-acids. It's basically a protein shake for your skin!
For best results we recommend 3 to 4 sessions, done every 4 weeks. Maintenance can be done once or twice a year thereafter.
Treatment sessions are approximately 30 minutes – some patients choose to come 45 to 60 minutes prior to treatment for a numbing cream such as lidocaine to be applied to aid in patient comfort.
Following your BELOTERO HYDRO treatment you will notice tiny "blebs" at the injection sites. These small pockets of product tend to last between 4 and 48 hours, depending on the dehydration level of your skin.