Belotero® SOFT, BALANCE, INTENSE & VOLUME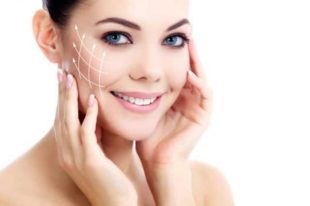 The Belotero® family of dermal fillers products are made of hyaluronic acid (HA), which is a natural component of your skin. The innate ability of hyaluronic acid to bind water makes the Belotero® range the perfect choice for maintaining the smoothness and volume of your skin. Distributed by Merz Pharma Group, which has been a driver of innovation in the fast-evolving field of aesthetic medicine.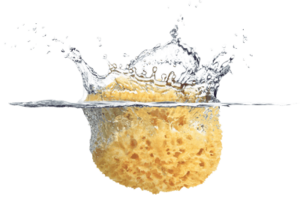 During the ageing process, our body's production of Hyaluronic acid naturally decreases. In fact, by the age of 50 we can expect to have lost approximately 50% of our bodies HA! As a result our skin becomes drier and its ability to retain moisture and maintain elasticity depletes.
The Belotero® products not only instantly fill the skin and smooth out wrinkles on your face; but due to its special formulation, it will also hydrate the surface of the skin to keep it looking fresh and plump.
Like other treatments with dermal fillers, Belotero® filler injections will take approximately 30 minutes to complete. Wrinkle filling, facial contouring, lip enhancement and rehydration treatments are virtually painless.
The Belotero® products are hypoallergenic fillers and usually do not require a skin test prior to injection. The aesthetic results are immediate and you will be able to continue your daily activities as soon as your appointment is over.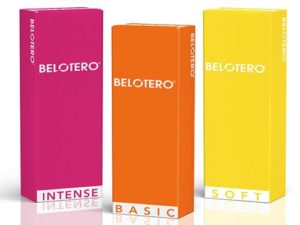 Belotero® Soft

Suitable for fine line correction and deep rehydration due to its water-binding capacity. This product  integrates smoothly into the treated area and is uniquely developed and formulated for the treatment of superficial skin wrinkles in a very gentle way!
Belotero® Balance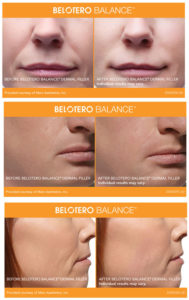 Your natural choice for the correction of moderate to deep lines such as the lines around your mouth (nasolabial folds, marionette lines). The product can also be used for lip augmentation when you are looking to add volume to your lips and lip contour.
BELOTERO® INTENSE
For a plumped and refreshed look, which fills folds and deep wrinkles leaving you feeling rejuvenated. Thanks to a balanced elasticity that safely provides optimal skin support, Belotero® Intense provides long-lasting results which enhance your satisfaction with your appearance. Effective filling capacity for lip augmentation and the correction of deep lines such as: Nasolabial folds, marionette lines, lip contours, lip volume, and cupid's bow. Everyone will notice your refreshed look, but no one will know.
BELOTERO® VOLUME
Live life at full volume! We are all born with a round face full of volume and fat that we lose naturally over time. Belotero® Volume is specifically balanced to restore volume in areas of extensive volume loss, designed to add support to the overlying skin and to restore volume in areas such as cheeks, cheek bones, chin and temples.
Lovely Lips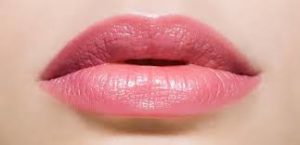 Are your lips thinning with age? Hyaluronic acid dermal filler treatment is ideal to add soft shape to thin lips or to sculpt lip contours. Belotero® Balance and Intense can restore volume and softness of your lips so they look naturally full and smooth.
The Belotero® products can also be used to enhance the vermillion border around the mouth to prevent lipstick seeping into the skin. The Cupid's bow can be shaped to give a sculpted, alluring look.
The vertical lines above and below your lips can be difficult to hide with makeup and are often highlighted when a bright shade of lipstick seeps into them. The characteristics of Belotero® Balance and Intense make them the ideal fillers for lip injections. They can improve the appearance of your lips by adding shape, structure and volume. Thereby, you can adjust the effect according to your personal idea of a perfect lip. Lip enhancement requires a less-is-more approach for a natural-looking treatment result.
Rejuvenate your lips for a naturally younger-looking and beautiful you!
TREATMENTS FOR MEN
A man's skin structure considerably differs from a woman's. Regardless of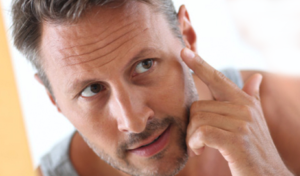 age, the skin of a man is thicker than the skin of a woman and tend to have a naturally higher collagen density resulting in fewer wrinkles and slower ageing. But with age, even male skin loses structure and elasticity, and wrinkles become visible. The face looks tired and less dynamic.
For wrinkle correction and for replenishing lost volume, there are effective treatment options with hyaluronic acid. As hyaluronic acid fillers, the Belotero® products can be used by men to maintain an attractive, youthful appearance while retaining a masculine look.