Hair Removal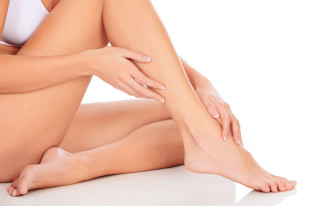 Data collected by the American Society for Aesthetic Plastic Surgery in 2011 shows Laser Hair Removal as one of the top 3 non-surgical cosmetic procedures beaten out only by Botox® and Fillers! In Toronto, Ontario Laser Hair Removal procedures have always remained a top service and are gaining popularity due to advancements in laser technology.
Laser Hair Removal works by the laser light which is absorbed by pigmentation (melanin) in the hair shaft, damaging the follicle. However this light can also be absorbed in the surrounding skin; therefore patients must be aware that tanned skin cannot be treated as it may result in burning and or blistering. This is true for very dark pigmented skin as well.
Laser Hair Removal does not respond to blond, light brown, grey, white or red hair as there is not enough pigment in these hairs. This is why your Doctor must be involved in assessing your skin. There are specific lasers for very dark skinned individuals but most of the machines most commonly used are not recommended for these individuals. Dr. Weksberg of The Weksberg Centre for Cosmetic Dermatology in Toronto does not perform Laser Hair Removal treatments on women who are pregnant or breast feeding.
Another contraindication for treatment is timing of the hair growth cycle. Current waxing and threading will affect a good outcome and these must be stopped at least 6 weeks prior to treatment as there will not be enough hair under the surface of the skin to absorb an adequate amount of the laser energy to properly destroy the follicle.
Prior to your first treatment you should meet with the clinic Doctor and the Laser Technician to discuss your treatment options and insure that you are a good candidate. You should discuss the risks and benefits, expectations, as well as cost for Laser Hair Removal.
Patients are required to shave the hair in the treatment area one day prior to treatment to insure there is no hair on the surface of the skin, reducing the risk of burns and blisters. Patients are required to attend multiple visits due to the hair growth cycle as the hair is only effectively treated during the active growth cycle. Typically 20% of the hair will be in this stage at your first visit and then if timed in the correct intervals your hair will be treated at its optimal growth cycle at each visit. On average this will be every 6 weeks for the face and every 8-12 weeks for the body. Hormones also change and can cause new hair growth at any time, thus hair removal is not an easy science and must be monitored by a Doctor.
Immediately after the treatment the skin will look pink and slightly swollen. This will subside within an hour or two and the skin will return to normal. Occasionally, a patient will have temporary pigment changes, blistering, or scabbing. Some cases of scarring have been reported with laser hair removal, but these are extremely rare.
A recent clinical study evaluated the use of the LightSheer™ Laser for hair removal. Of 92 patients, all had temporary hair loss and 89% had permanent hair reduction. Re-growing hairs were shown to be thinner and lighter than previously.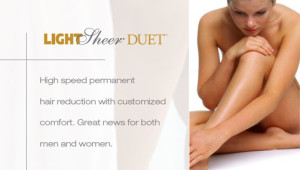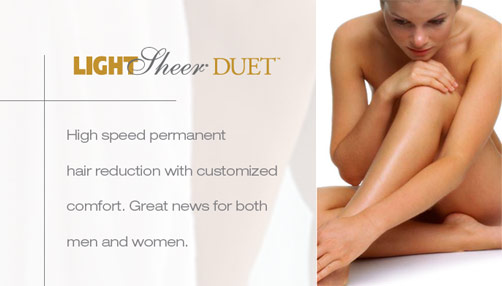 At The Weksberg Centre for Cosmetic Dermatology in Toronto, Dr. Fred Weksberg is pleased to offer the LightSheer Duet, which is the Gold Standard in laser hair removal using the breakthrough vacuum-assist technology. This allows for dramatically faster, deeper and more efficacious treatments, backs and legs are done in about 15-20 minutes (as opposed to an hour). The LightSheer Duet uses what is known as pneumatic suction to draw the skin gently into the laser improving penetration of light, efficacy, and a dramatic reduction in discomfort during treatment.