Teosyal®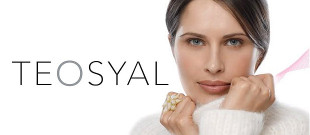 Teosyal® is a brand of hyaluronic acid-based dermal filling injectable products. Teosyal® is 100% hyaluronic acid-based. It is a non-animal origin, biodegradable and resorbable product. The brand includes exclusive products each designed to compliment various areas of your face, fine lines, loss of volume, contour and augmentation.
Teosyal® is injected under the wrinkle to lift it from the inside and make it disappear instantaneously.
Dr. Weksberg offers both Teosyal® Redensity II and Global Action at his office in Toronto, Ontario. Each offers unique filling capability.
Teosyal® Redensity II  is a revolutionary dermal filler that combines hyaluronic acid and a dermo-restructuring complex of vitamins and amino acids to rejuvenate tired-looking eyes and dark circles. Teosyal Redensity II is the first dermal filler of its kind that has been developed specifically for the tear trough area to address fine lines, dark circles and deep hollows under the eyes using a technique that would allow patients to return to work following their treatment.
Teosyal® Global Action effectively fills forehead wrinkles, glabellar (frown) lines, mild to moderate nasal furrows, smile lines, cheek wrinkles, and improves scars.
With a high concentration of HA and minimal amounts of Protein and Bacterial Endotoxins, Teosyal® provides longevity of treatment with minimal down-time.