Treatment for Sweating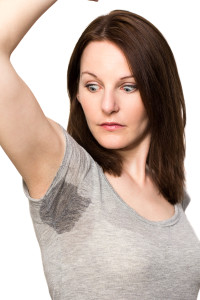 Excessive sweating is a medical condition referred to as Hyperhidrosis. The purpose of sweating is to keep a constant body temperature around 37 degrees Celsius. However some areas such as the palms, soles, and armpits do not really contribute to this thermal regulation. Sweating in these areas is triggered more by emotions than heat. It is estimated that 1% of the population suffers from hyperhidrosis. Men and women are equally affected by this problem. A positive family history is commonly seen. It is more common in teenagers and young adults. The areas most affected are the axilla (armpits), and the hands. Although this is a very common problem, individuals may not seek advice because of embarrassment. Hyperhidrosis can be a disabling condition that affects psychological well-being and renders daily work and social life a struggle.
Dr. Fred Weksberg of The Weksberg Centre for Cosmetic Dermatology based in Toronto, Ontario can help!
Treatment is simple and involves a quick visit to our Toronto based clinic for a series of tiny injections to the affected areas. For some patients this is less painful then a blood test. The effect is not immediate but will start to take effect within one to two weeks. Sweating may be dramatically reduced, but in some cases may not be totally eliminated. On rare occasions, follow-up injections are needed after two weeks to further reduce sweating. One can expect treatment to reduce sweating for a 4 to 8 month period and in some cases our patients have reported a reduction in sweating for up to one year, however this may vary from person to person. In some instances a patient may not respond to the treatment, fortunately this is very rare.
Most insurance companies cover a portion of the cost of Hyperhidrosis treatment – Be sure to ask Dr. Weksberg's staff to fill out an insurance form for you to submit for pre-approval.