Colorescience®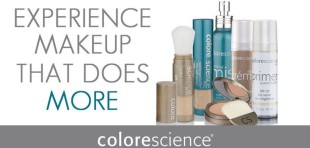 Colorescience Mineral Makeup was developed by Diane Ranger, the original founder of Bare Escentuals from San Francisco, California. In 2000, she decided to develop her own line of high integrity mineral products, Colorescience Mineral Makeup. Diane is a pioneer in the mineral market as the inventor of powder sunscreen. The line offers a wide range of makeup and skincare products to suit many needs including: rosacea, fine lines, acne and post-procedural. All products are free of perfumes, dyes, talcs, fillers, parabens and mineral oil. Colorescience Mineral Makeup uses skin loving ingredients such as zinc, peptides, and antioxidants. The line also offers a range of mess free mineral dispensing brushes making it easy to reapply the product anywhere. Protect your skin with full UVA & UVB protection with the Sunforgettable line praised by celebrities and make-up artists around the world.
Colores
Colorescience® enhances your skin tone while allowing your natural radiance to shine through. The colore saturation of these minerals is remarkable. A little goes a long way. The minerals have a veil like quality which gives you the ability to layer colore over colore without a heavy appearance.
Protects
Colorescience® face colore adheres to and lies on top of the skin surface providing a protective barrier from the environment. It has great reflective properties and light absorbing properties to shield the skin from the harmful effects of the environment. Almost all of the products contain an SPF 20 sunscreen
Corrects
Colorescience® offers post-procedure protocols that doctors have recommended to shorten the down time usually necessary with many treatments, especially peels, lasers and other aggressive skin regimes. This leaves the skin looking flawless after most treatments without the use of harsh chemicals.
Primers
Colorescience Skin Brightening Face Primer – Line Tamer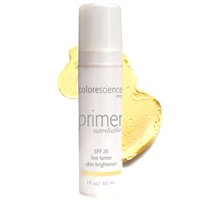 A mineral-based multi-benefit primer that targets aging. Combats fine lines, shrinks pores and brightens the complexion.
Skin Type & Condition: For mature skin types
Benefits:
Specially designed for mature skin
Contains antioxidants (green tea, tangerine and lavender) to help soothe and protect skin from free radical damage
Also great for the hands
SPF 20
Paraben-free
Colorescience Skin Bronzing Face Primer – Wild To Mild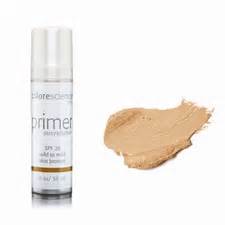 A mineral-based primer designed to smooth and even out the complexion. Wild to Mild has a gold-brown tint to give the skin a naturally looking tan.
Skin Type & Condition: For all skin types
Benefits:
Blue algae extract, Vitamin E and beta carotene to hydrate and protect the skin
Patented rice peptides prevent the breakdown of collagen and help sooth irritated/burned skin
SPF 20
Paraben-free
Colorescience Skin Balancing Face Primer – Chocolate Mousse
A primer to fight breakouts with the help of chocolate! Will hydrate without clogging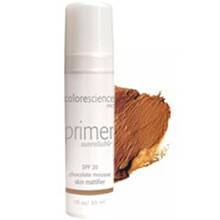 pores and helps reduce redness.
Skin Type & Condition: For oily and acne-prone skin types
Benefits:
Beta carotene helps reduce redness
Oat Beta Glucan reduces inflammation
Paraben-free

Colorescience Skin Mattifying Face Primer – Let  Me Be Clear

A multi-functional facial primer that not only smoothes skin texture and tone, but it also treats problem skin for a flawless, beautiful finish. Simply use this face primer for oily skin as your first step in your makeup application and the rest of your cosmetics will glide on smoothly with full coverage.
Skin Type & Condition: For all skin types
Benefits:
Multi-functional facial primer
Smooths the skin's texture
Great for problem skin
Colorescience Calming Face Primer – About Face
A primer that blocks both UVA/UVB rays. Helps calm irritated and sensitive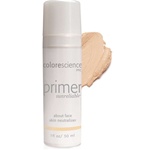 skin. Creates a radiant and even canvas for foundation.
Skin Type & Condition: For all skin types, especially sensitive skin
Benefits:
Non-irritating formula with redness neutralizing properties
Fragrance and gluten-free
Paraben-free
Sunforgettable SPF 50 Brush
This simple, self-dispensing powder brush makes it easy to apply and reapply instant UV protection throughout the day. Tinted formula with SPF 50.
Colours Available: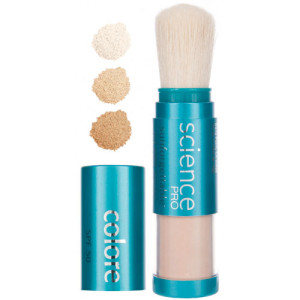 Benefits:
Suits all skin types
Perfect SPF solution for acne prone skin
Great for active men, women, children, and those with eczema and rosacea
SPF 50 with broad spectrum UVA/UVB sun protection
Sheer formula, and water resistant
Red Seaweed Extract to help with balance and firm the skin
Paraben-free
Corrector Kit
Imperfections Be Gone!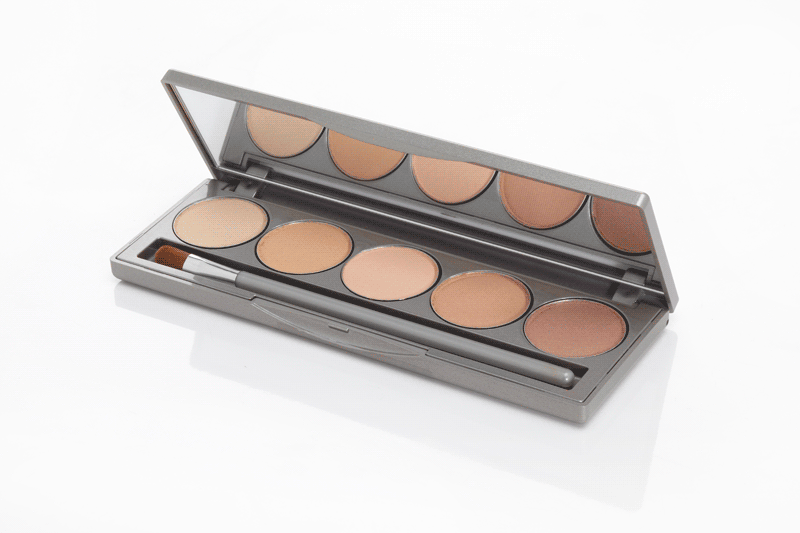 Whether you're a makeup guru or a beginner, you are sure to find a plethora of uses for the Colorescience Corrector Kit. This handy palette contains a selection of foundations, concealers and bronzers that can be used separately or blended together to hide imperfections including dark under eye circles, acne blemishes, skin redness, scars and more.
The Colorescience Corrector kit offers the following five shades to perfectly camouflage any skin imperfection and highlight your best features.
1.) Lightens Red Tones
2.) Corrects Red Tones
3.) Corrects Blue & Covers Brown
4.) Corrects Dark Blue
5.) Corrects Yellow
Use the Colorescience Corrector Kit to conceal imperfections, correct skin problems, camouflage freckles, conceal blemishes, hide broken capillaries, enliven sallow skin and even help hide scars. Ideal emergency corrector to keep in a handy spot when imperfections on the skin need addressing. So sheer that when used properly, nobody will know you have something to hide.