Latisse®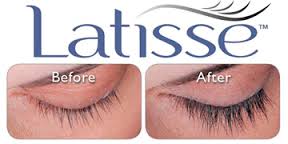 Latisse® is the only prescription eyelash product approved in Canada to grow your natural eyelashes longer, fuller and darker! Visible results happen as early as eight weeks, with full, dramatic effects in 12-16 weeks.
Unlike over-the-counter eyelash products that condition and moisturize lashes, or mascara products that make your lashes look longer than they are, Latis

se has been clinically proven to actually grow noticeably longer, fuller and darker lashes. By the end of 4 months, lashes are 25% longer, 106% fuller and 18% darker!
Could my eye colour change with Latisse®?
There have been NO reports of eye colour change in the Latisse® clinical study. However, there is a very low potential risk for increased brown iris pigmentation when bimatoprost (Latisse®) is deposited directly into the eye.
What if i stop using Latisse®?
If Latisse® is discontinued, lashes will gradually return to their previous appearance.