TiZO® Solar SPF
A Sunblock for all Seasons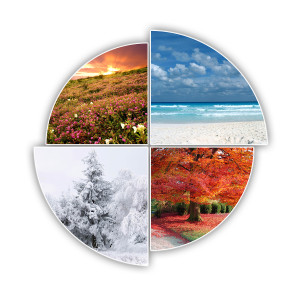 UVA radiation, (unlike UVB) is consistently the same all day, all month, and all year long. UVA rays present the same damaging effects to the skin in mid-December at 9am, as in mid-July at 3pm. Deeply penetrating UVA radiation enters deeper into the skin than UVB, and is significantly more damaging. This is specifically why daily, year round complete sun protection is essential.
Optimal sunscreens are made from inorganic compounds (i.e. minerals) – This is because minerals do not contain carbon. Carbon based sunscreen compounds are therefore known as organic. Anything organic contains carbon. Carbon is the basis of all life. Humans and the rest of the animal kingdom (on land and in water), as well as all plants, are carbon based. Anything carbon based will be broken down by UV rays from the sun. Inorganic compounds (minerals) are not broken down by the sun. This is why inorganic mineral based sunscreens rather than organic sunscreens are preferred.
TiZO products offer unparalleled esthetic elegance, while providing superb photo stable performance in a mineral sunscreen.
Using proprietary technology TiZO has formulated multiple particle sizez of 20% Zinc Oxide into a soft, silky finish that dries clear.
Benefits:
Specially formulated without irritating chemical sunscreen filters
Uniquely formulated to offer sheer transparent protection on most complexions
Silky, smooth aesthetic elegance
Paraben, oil and fragrance free
Provides superb photostable performance
Zinc Oxide helps to assure full spectrum UVA/UVB protection