ZO® Medical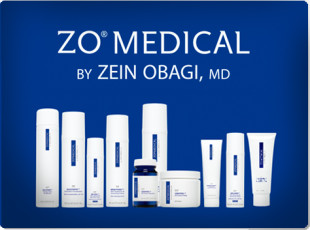 For over three decades, Dr. Zein Obagi defined the concept of skin health and developed skincare treatments and programs that can create truly healthy skin. Now with the introduction of ZO® Medical products, Dr. Obagi's next generation of therapeutic skincare products and treatments are exclusively available through skin health professionals.
Under the guidance of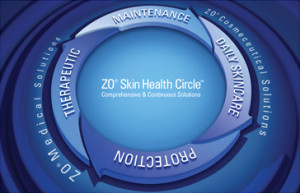 Dr. Zein Obagi, ZO Skin Health, Inc. has developed a wide spectrum of therapeutic treatments for everyone regardless on skin condition, age, gender or ethnicity. Based on the latest advances in skin therapy technology – biotechnology complexes, plant stem cell components, and multi-therapy delivery systems – these products and programs have been optimized for your specific needs.
CLEANSE
OILACLEANSE™


Cleanser for Normal to Oily Skin
Dual-action cleanser exfoliates and cleanses skin targeting excess oil. Removes oil and other impurities to clean the skin and clear acne.
Reduces the factors that contribute to skin inflammation
Helps decrease the level of bacteria on skin surface
Promotes exfoliation
WHEN TO APPLY: Use AM and PM.
HOW TO APPLY:Apply to face with moistened hands. Rinse thoroughly with lukewarm water.
BALATONE™


This unique toner optimizes the penetration of therapeutic treatments by removing impurities and balancing the pH of weak skin. It invigorates dry, sensitive and irritated skin with its proprietary technology.
Unique combination of solvents, astringents, and exfoliants thoroughly clears and cleanses the skin
Exclusive blend of conditioners, moisturizers, and hydrators soothes treated skin
Gentle cooling action adds comfort to reduce irritation
WHEN TO APPLY: Use AM and PM.
HOW TO APPLY:Apply to face with cotton and avoid eye area.
ACTIVATE
CEBATROL™
An invigorating acne medication to treat and prevent outbreaks. Its proven exfoliants effectively remove dead skin cells. These pads also contain an emollient complex to soothe skin and reduce redness.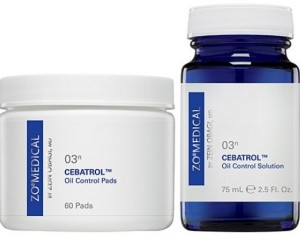 2% salicylic acid for a maximum-strength acne medication
Mandelic acid helps reduce inflammatory agents that cause irritation
Triclosan provides additional antibacterial benefits
WHEN TO USE: Use pads twice a day, after cleansing before applying creams AM and PM.
HOW TO USE: Empty solution into jar. After mixing, keep jar closed to reduce evaporation.
CORRECT
GLYCOGENT™
Exfoliation Accelerator

An innovative exfoliation accelerator engineered to help reduce inflammation and prevent future damage. Its aggressive protocol enhances mitosis and helps correct skin discoloration.
Potent glycolic and lactic acid complex provides skin surface renewal
Anti-inflammatory properties help minimize the appearance of irritated skin
Proven antioxidants help prevent future skin damage
WHEN TO USE: Use in the AM
HOW TO USE: Apply 1-2 pumps daily as directed by your physician
PIGMENATION CONTROL
BRIGHTENEX™
Skin Brightener & Correcting Crème Non-Hydroquinone
Bioengineered to target all three stages of skin discoloration through a patented, bio-vectored, microsphere delivery system. It is formulated to even skin color and tone, and recommended as a first course in treating hyperpigmentation.
Synergistic Retinol Formulation


A blend of potent retinol (1.0%), melanin inhibitors and antioxidants are released to rapidly brighten and even skin tone quality. Additionally, this comprehensive multi-action formulation minimizes skin redness caused by environmental factors and helps maintain an even and restored skin tone.
BRIGHTENEX™ Multi-Action System
Dual pigmentation reversal with vitamin A and ascorbic acid-2 glucoside
Bio-active levels of vitamins E and C, and stachys officinalis antioxidants
Multistage glutathione, soy isoflavones, and N-acetyl glucosamine melanin inhibitor system
Retinol (1.0%) microencapsulation in an oleosomes delivery system
DIRECTIONS FOR USE: Use 1-2 pumps evenly on face and other areas as directed by your physician. Start slowly and build use gradually. Apply twice a week and increase frequency to alternative days and then every day as tolerated. You may experience some dryness, irritation and peeling, which typically develops 3 – 7 days following the first application. Dryness and irritation will diminish as new, fresh skin is revealed. If irritation or burning sensation persists, temporarily discontinue use of Brightenex™. Once irritation subsides, resume gradual use of Brightenex™ to build skin's tolerance.
MELAMIN™ / MELAMIX™
Skin Bleaching & Correcting Crème

Hydroquinone USP, 4%
Only available though a physician. Prescription only.
A highly effective Rx solution to lighten hyperpigmentation with 4% hydroquinone. Recommended following use of BRIGHTENEX.™ This formulation alters the essential subcellular metabolic processes that cause cytolysis. It inhibits melanin production to even skin color and tone.
4% hydroquinone acts as a gradual bleaching agent
Reduces the appearance of chloasma, melasma, freckles, and sun damage
Vitamin E helps repair damaged skin cells
DIRECTIONS FOR USE: Indicated for the gradual bleaching of hyperpigmented skin conditions such as chloasma, melasma, freckles, senile lentigines, and other unwanted areas of hyperpigmentation.